IOGear

IOGear 6.5 ft. High Speed HDMI Male to HDMI Micro Male Cable w/ Ethernet
Overview
IOGEAR's new High Speed HDMI Cable with Ethernet provides both high-definition video and multi-channel audio connection between any digital HDTV display and digital source devices such as cell phones, cameras, and other portable products. This cable allows you to view the content from your smartphone on a big screen TV. Simply connect the cable into your smartphone via the HDMI Micro Connector port and then connect it to the HDMI Connector port on your flat screen TV. Enjoy sharing all your favorite videos, slideshows and music in an entirely new way. No need to have your friends and family crowd around the small screen, pump up the fun with IOGEAR!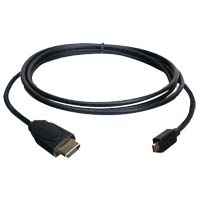 IOGear 6.5 ft. High Speed HDMI Male to HDMI Micro Male Cable w/ Ethernet
Usually ships in 1-3 business days.