Overview
These discs and rings are made of neodymium, the most powerful magnet material in the world! Great for projects that require extreme strength in a small size. These magnets are NOT FOR CHILDREN. Care should be taken because these magnets are brittle and can chip if dropped.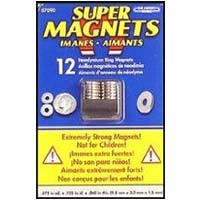 Super Magnet Rings 12 Pack
Usually ships in 1-3 business days.