Gyration

Gyration Air Mouse GO Plus with Full Keyboard
Overview
With the Air Mouse GO Plus, your natural hand movements drive more powerful presentation delivery, more immersive gameplay, more interactive classroom lectures and more convenient access to your digital entertainment. The Air Mouse GO Plus comes with Gyration's powerful MotionTools software that enables you to deliver more compelling lectures and presentations. MotionTools recognizes your gestures and uses them to control applications and to activate a rich set of tools you can use to interact with your content. With natural and intuitive hand movements, the Air Mouse GO Plus will allow you to maintain full control of your presentation as you walk around the room driving home your USPs. Turn the mouse cursor into a highlighter, laser pointer or pen, or gently swipe it in-air to activate embedded media and other special effects.
Learn More about the Gyration Air Mouse GO Plus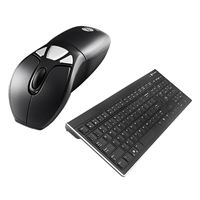 Gyration Air Mouse GO Plus with Full Keyboard
Usually ships in 1-3 business days.