Amped Wireless

Amped Wireless High Power 600mW Wireless N USB Adapter
Overview
The Amped Wireless High Power Wireless-N 600mW Pro USB Adapter provides your Mac or Windows laptop or desktop computer to connect to WiFi networks from extreme distances. The UA600EX is a high performance wireless network adapter that features a 600mW wireless power amplifier in addition to a high gain directional antenna to achieve up to four times the wireless range of standard wireless networking adapters.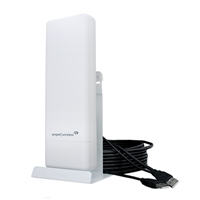 Amped Wireless High Power 600mW Wireless N USB Adapter
Usually ships in 1-3 business days.