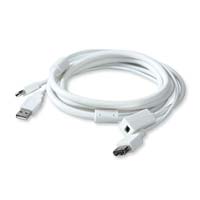 Apogee

Apogee Mini DisplayPort/ USB 2.0 (Type-A) Male to Mini DisplayPort/ USB 2.0 (Type-A) Female Cable for Apple 24" and 27" LED Cinema Display 6 ft. - White
Overview
Mini DisplayPort is a miniaturized version of DisplayPort technology commonly found on newer Apple computers. Use this Mini DisplayPort and USB extension cable with your 24-inch and 27-inch Apple Cinema Displays. Extend both audio and video from any Mini DisplayPort equipped Apple computer to your Apple Cinema Display with this unique extension cable. Combining USB audio with Mini DisplayPort video into a single-cable solution, this extender offers a convenient solution.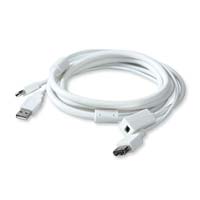 Apogee Mini DisplayPort/ USB 2.0 (Type-A) Male to Mini DisplayPort/ USB 2.0 (Type-A) Female Cable for Apple 24" and 27" LED Cinema Display 6 ft. - White
Usually ships in 5-7 business days.