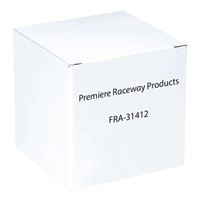 Quest Technology

Quest Technology 1/2" Raceway Right Angle Accessory 2 Pack
Overview
Quest Raceway Accessories were designed with the installation professional in mind. Quest created these accessories to eliminate the problem of redirecting raceway and wrapping around corners. Quest 1/2" right angle Raceway speeds up installations by enabling you to simply fit the raceway into the proper accessory to wrap around corners, change directions, split your cables, terminate a run, or run cable down from the ceiling. The white ABS material connections are perfect for completing an aesthetically pleasing installation.
Quest Technology 1/2" Raceway Right Angle Accessory 2 Pack
Usually ships in 1-3 business days.