Quest Technology

Quest Technology 1/2" x 48" Raceway Cover Lid
Overview
The Wirehider non-Metallic Surface Mount Raceway Cover Lid was designed with the installation professional in mind. WireHider was designed to eliminate the problem of hard to install locations where the cable has a tendency to fall out, especially on ceiling runs. This 1/2" x 48" Raceway duct cover lid speeds up installation by enabling you to quickly finish an installation with ease and you can exit anywhere along the run without the concern of the cable falling out. Raceway covers offer an aesthetically pleasing option that leaves the installation looking clean and professional every time.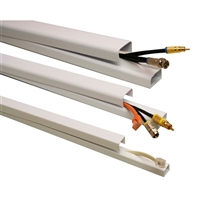 Quest Technology 1/2" x 48" Raceway Cover Lid
Usually ships in 5-7 business days.