Matias

Matias Tactile Pro Keyboard
Overview
The Matias Tactile Pro Keyboard uses the highest quality Alps mechanical keyswitches for the ultimate typing experience on a Mac. Mac users who remember the original Apple Extended Keyboard, which many people believe was the best keyboard Apple ever made, will appreciate the Matias Tactile Pro Keyboard. The keyboard includes a three port USB 2.0 hub, printing of the Mac's special option characters on the keys, high performance electronics with special anti-ghosting technology so that the keyboard keeps up with the fastest typists, laser etching on keys so print never wears off, etc. This is a premium keyboard for the ultimate Mac typing experience.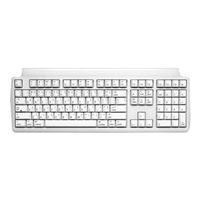 Matias Tactile Pro Keyboard
Usually ships in 5-7 business days.