Adesso

Adesso Mini Trackball Keyboard
Overview
The Adesso Mini Trackball keyboard combined with an integrated optical trackball, gives users control of their desktop. The 800 DPI integrated optical trackball delivers superior precision and smooth motion with virtually no maintenance or cleaning required. Measuring less than 12 wide and equipped with an embedded numeric keypad, the keyboard is a great space saver for desktops in homes or offices. It is ideal for use in POS, kiosks, warehouses, manufacturing environments or in any small working area.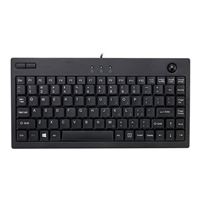 Adesso Mini Trackball Keyboard
Usually ships in 5-7 business days.