Verbatim

Verbatim DVD+R 16x 4.7 GB/120 Minute Disc 50-Pack Spindle
Overview
Verbatim DVD+R Life Series offers 4.7GB or 120 Minutes of write-once storage capacity, good recording quality, and compatibility with 1X to 16X DVD+R writers. Verbatim's DVD+R Life Series 16X media allows users to record up to 4.7GB of data or 2 hours of video in approximately 5 minutes. With good read/write performance, rely on Verbatim to capture life's events.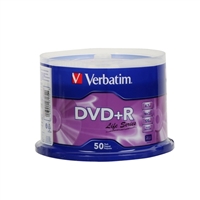 Verbatim DVD+R 16x 4.7 GB/120 Minute Disc 50-Pack Spindle
Usually ships in 5-7 business days.