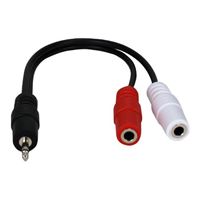 QVS

QVS 2.5mm Mini-Stereo Male to Two 3.5mm Female Speaker Splitter Cable 6 in. - Black
Overview
This Y splitter cable allows you to connect two speaker systems to one PC, share one wireless speaker system between two PC or connect two headsets to your walkman, iPod, PDA, or mini-MP3 players with 2.5mm audio port. Specifically design for quality computer audio applications, it works with any PC sound card, speaker, headset, portable CD players and microphone with 2.5mm connector. It is shielded to protect against radio frequency and electromagnetic interference.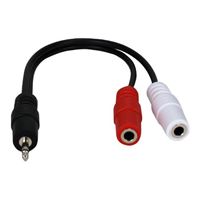 QVS 2.5mm Mini-Stereo Male to Two 3.5mm Female Speaker Splitter Cable 6 in. - Black
Usually ships in 1-3 business days.