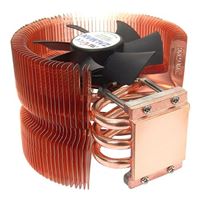 Zalman

Zalman CNPS9500 AT Silent CPU Cooler
Overview
For the PC-enthusiast who wants a desktop that looks sizzling hot, yet stays remarkably cool, check out the Zalman CNP9500 AT CPU Cooler featuring a fan and heatsink! This hi-tech cooling device lends a rich, bright look to your PC with its flashy heatsink and frame, durably crafted out of pure copper. The heatsink saves space with an architecturally sound 3-pipe system that effortlessly whisks heat away with the help of the automatic fans 92mm blades and 2 ball bearings. Controlling the fan is a PWM chip, which automatically adjusts the fans speed based on CPU temperature. It operates at a stealthy 18.0 dB at 1300 RPM and quietly revs to 27.5 dB at 2650 RPM during heated PC action. Compatible with a Socket 775 platform, the Zalman Pro works flawlessly with Intels Dual Core Pentium, Pentium 4, and Celeron D systems. For ultra-cool protection and aggressive styling, the Zalman CPU Cooler is the way to go.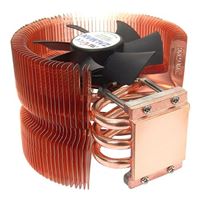 Zalman CNPS9500 AT Silent CPU Cooler
Usually ships in 5-7 business days.