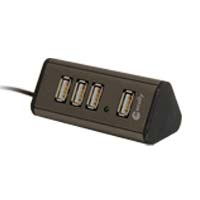 MacAlly

MacAlly Macally TRIHUB4 Mini 4 Port USB 2.0 Hub with AC Adapter (Black)
Overview
If you are looking for a light weight, dependable, powered USB hub, then check out MacAlly's TriHub 4 Port and 7 Port USB 2.0 hubs. Designed to be mobile for those on the go, MacAlly's TriHub USB hubs fit the bill exactly right. The 4-port unit is only 1 3/8" x 1 3/8" x 1 3/8" by 3 1/4" and comes with its own optional AC power supply adapter to provide DC power to the unit along with a USB cable. The 7-port unit is only 1 3/8" x 1 3/8" x 1 3/8" by 5" and likewise has the AC power adapter and USB cable for connection to your Mac or PC. If you wish, you can utilize the adhesive pads on the bottom of the units to secure them to a desired location on your desk or desktop. The 4-port unit provides one separated port for a larger sized USB device while the 7-port unit offers 2 separated ports for the same reason.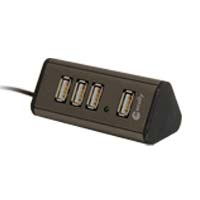 MacAlly Macally TRIHUB4 Mini 4 Port USB 2.0 Hub with AC Adapter (Black)
Usually ships in 1-3 business days.