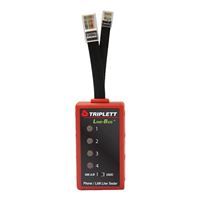 Triplett

Triplett Line-Bug 4 Phone/LAN Line Tester
Overview
Tests standard telephone jacks and LAN jacks for connection to telephone system. Protect your Expensive LAN Tester! - checks LAN Lines (RJ-45) wired to 568 A/B checks LAN Lines (RJ-45) wired to 568 A/B. Has both RJ-11 and RJ-45 style plugs. 4 Tri-color (Red / Green / Amber) LEDs indicate Current, Polarity, & Ringing / AC Voltage on each line. Tests Single Line, 2 Line, 3 Line, or 4 Line jacks to USOC (telephone) standard. Tests LAN jack (RJ-45) wired to 568A/B standard for telephone line current. RJ-45 test plug is selectable via front panel switch for USOC (telephone) or 568 (LAN) connection. Use to test a LAN jack for telephone current, which might damage an expensive LAN tester. Compact design - fits in shirt pocket, Economical and Convenient.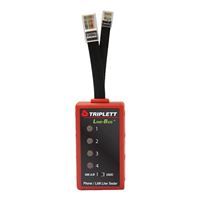 Triplett Line-Bug 4 Phone/LAN Line Tester
Usually ships in 1-3 business days.