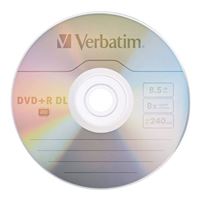 Verbatim

Verbatim DVD+R DL 8x 8.5 GB/240 Minute Disc 30-Pack Spindle
Overview
Preferred by DVD drive manufacturers, Verbatim DVD media continues to set the standard for high-speed disc performance, reliability, and compatibility. DVD+R Double Layer nearly doubles the storage capacity with two AZO recording layers on a single-sided disc. Certified and supported by the industry high speed Double Layer writers, Verbatim discs are approved for high speed burning up to 10X speeds. Store up to 8.5GBs of video in approximately 12-15 minutes or less while maintaining compatibility with most DVD video players or DVD-ROM drives. All backed by Verbatim's limited lifetime warranty.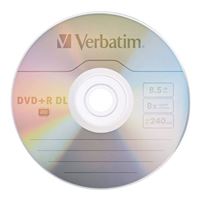 Verbatim DVD+R DL 8x 8.5 GB/240 Minute Disc 30-Pack Spindle
Usually ships in 5-7 business days.