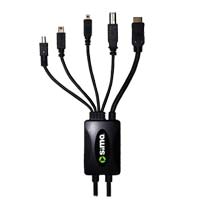 Sima

Sima USB 2.0 (Type-A) Male + HDMI Male to USB 2.0 (Type-B) Male /USB Mini-B 5 Pin Male/USB Mini-B 4 Pin Male/USB Mini-Flat 8-pin Male/ Mini HDMI Male 5-in-1 Multi Cable 5 ft. - Black
Overview
Simas patent-pending USB Multi Cable with HDMI is the solution for powering or connecting different devices via USB or HDMI with single, versatile cable. While traveling on business or pleasure, take only one cable with multiple USB and HDMI connectors to charge or connect. Use the USB connectors with most major name brand digital camcorders, digital cameras, media players, cell phones, laptops, portable DVD players, PDAs and more. Connect to your HD camcorder with the HDMI Connectors.
Sima USB 2.0 (Type-A) Male + HDMI Male to USB 2.0 (Type-B) Male /USB Mini-B 5 Pin Male/USB Mini-B 4 Pin Male/USB Mini-Flat 8-pin Male/ Mini HDMI Male 5-in-1 Multi Cable 5 ft. - Black
Usually ships in 1-3 business days.