TekNMotion

TekNMotion 400 DVD 3 Ring Binder
Overview
The TekNmotion CD/DVD Organizer is a great way to protect and organize your valuable CD or DVD collection. The durable 3 ring latching system is resilient and designed to prevent unintentional opening. The quality materials used will ensure a long life and will keep your discs well organized and out of harms way. Each of the CD/DVD sleeves protects your discs from scratches and moisture. The retention bands on both sides of the organizer help keep discs in place as well as serving as a book mark. You can also use the handy master index chart to reference and quickly locate your disc. There is no need to search for missing or scratched discs anymore. With your TekNmotion CD/DVD Organizer, all of your discs will be protected, organized and right at your finger tips.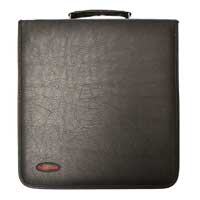 TekNMotion 400 DVD 3 Ring Binder
Usually ships in 5-7 business days.