Trendnet

Trendnet Cable/DSL 4-Port Broadband Router - Black
Overview
TW100-S4W1CA 4-port Cable/DSL Broadband router provides the easiest and securest way to share your high-speed Cable/xDSL Internet connection. It has four 10/100Mbps half/full duplex switch ports that directly connect to workstations or uplink to another hub or switch. The TW100-S4W1CA also functions as a firewall for your PC, protecting your computer from hackers. It allows up to 253 users to access the Internet using a single ISP account. By sharing just one TW100-S4W1CA, one IP address, and one Cable/xDSL modem, dozens of network users can surf the Internet simultaneously.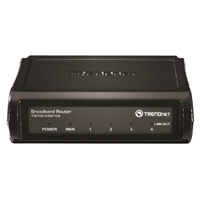 Trendnet Cable/DSL 4-Port Broadband Router - Black
Usually ships in 5-7 business days.