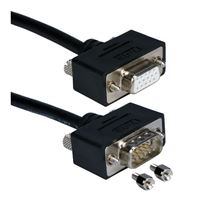 QVS

QVS High-Performance Ultra Thin VGA/QXGA HD15 Male To Female Tri-Shield Cable (CC320M1-15) (Discontinued by Manufacturer)
Overview
Extends any VGA cable. Supports all VGA including flat panel display, CAD and graphic workstations. Its UltraThin diameter provides space-saving design and flexibility not found on regular cables plus it has reversible mounting screws. Triple shielding prevents signal loss, screen ghosting & loss of color and works up to 100ft without a signal booster. Pin #9 is removed for universal VGA compatibility.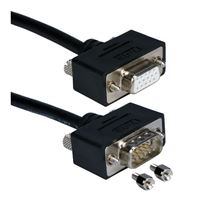 QVS High-Performance Ultra Thin VGA/QXGA HD15 Male To Female Tri-Shield Cable (CC320M1-15) (Discontinued by Manufacturer)
Usually ships in 5-7 business days.