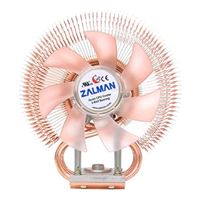 Zalman

Zalman CNPS9500A LED Universal CPU Cooler
Overview
100% copper heatsink with aerodynamically optimized tunnel design for maximum cooling efficiency. Innovative and patented, curved heatpipe design for a heat transfer capacity of up to 6 heatpipes with the use of just 3. Optimized heatsink layout for maximum cooling efficiency with minimal materials. 0.2mm ultra-slim fins for minimized weight and reduced airflow resistance. Ultra quiet CNPS 92mm opaque fan with blue LEDs. Aerodynamically optimized heatsink for smoother airflow and minimal noise.
Zalman CNPS9500A LED Universal CPU Cooler
Usually ships in 1-3 business days.