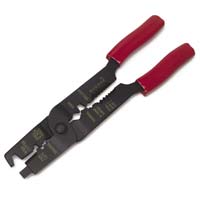 Overview
Wire cutter, terminal crimper & wire stripper in one handy tool. Black anodized finish with insulated grips. Crimp slot on end of tool secures most ignition terminals including #210W & #211 type, right angle and high tower terminals. Crimps 7mm to 8.5mm ignition wire. Also works with 10-22 gauge solderless terminals.
Performance Tools 7-Way Crimper
Usually ships in 1-3 business days.