IOGear

IOGear 2-Port Dual View KVM Switch with Cables
Overview
The Dual View GCS1742 USB KVMP Switch brings dual head video functionality to IOGEAR's USB KVM switch technology. Now two dual-display computers can be accessed and controlled from a single console that consists of a USB keyboard, USB mouse, and two VGA, SVGA, or Multisync monitors. In addition, the GCS1742 allows the computers to share USB peripherals connected to the USB peripheral ports, such as printers, scanners, portable hard drives, etc. Recognizing the importance of sound, this switch is also audio-enabled. A single microphone can provide audio input to each of the computers, and you can enjoy the audio output of each computer on a single set of speakers.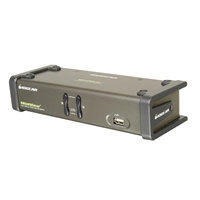 IOGear 2-Port Dual View KVM Switch with Cables
Usually ships in 5-7 business days.