Epson Epson Glossy Photo Paper

13" x 19"; 89 Brightness; 52 lb; 20 Sheets
Overview
13" x 19"
89 Brightness
52 lb
20 Sheets
Photo Paper delivers a smooth, glossy finish for everyday photos with the look of true photographic prints. Ideal for creating brilliant photo quality color and life-like images. Print your own digital photos, reprints, contact sheets and enlargements.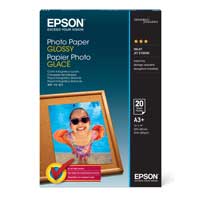 Epson Glossy Photo Paper

13" x 19"; 89 Brightness; 52 lb; 20 Sheets
Usually ships in 5-7 business days.