PowerSpec PowerSpec G902 Gaming PC

AMD Ryzen 9 5900X 3.7GHz Processor; NVIDIA GeForce RTX 3080 10GB GDDR6X; 32GB DDR4-3200 RAM; 2TB Solid State Drive
Buy a qualifying GeForce RTX 30 Series, Get Marvel's Spider-Man Remastered
SOLD OUT at Parkville Store

Overview
AMD Ryzen 9 5900X 3.7GHz Processor
NVIDIA GeForce RTX 3080 10GB GDDR6X
32GB DDR4-3200 RAM
2TB Solid State Drive
Microsoft Windows 11 Pro
10/100/1000 Network
802.11ac Wireless
Bluetooth 5.0
The PowerSpec G902 desktop computer is a powerful gaming machine featuring the AMD Ryzen 9 5900X unlocked processor, an ASUS X570 TUF Gaming Plus system board powered by a 750W PSU, 32GB DDR4 3200 RAM, a 2TB NVme SSD, and a RTX 3080 10GB discrete video card to provide an incredible experience playing the most demanding games in the market today!

Own the Be greater GeForce RTX Bundle
Limit one, free digital download code per customer of Marvel's Spider-Man Remastered on Steam while supplies last. Valid on select GeForce RTX 3090 Ti, 3090, 3080 Ti, 3080 desktop, laptop, or GPU.
REDEMPTION INSTRUCTIONS:
To redeem your promotional code for Marvel's Spider-Man Remastered you must have a GeForce Experience and a Steam account. Please follow the steps below:
Install your qualified graphics card
Update or install the latest version of GeForce Experience. (Version 3.18 or higher): https://www.geforce.com/geforce-experience/download
Open and log in to GeForce Experience
Go to the Account drop-down menu in the top-right and select "REDEEM"
Enter your bundle code from your qualifying bundle purchase
Follow the remaining instructions on screen
*Terms and Conditions apply.


Ends 10/12/2022. While supplies last. Bundle applies for qualifying desktops, laptops. and GPUs: GeForce RTX 3090 Ti, GeForce RTX 3090, GeForce RTX 3080 Ti, GeForce RTX 3080. Please see Terms & Conditions for a full list of qualifying partner products. Games must be redeemed via GeForce Experience™ application on a qualifying desktop, laptop, or GPU. Customers must meet the age requirement for the game to redeem. Regional/Country Requirements: Some codes require that they be redeemed in specific regions or countries. Please redeem the code in the appropriate region/country.

© 2022 MARVEL

© 2022 Sony Interactive Entertainment LLC

Created and developed by Insomniac Games, Inc. PC version by Nixxes Software BV.

© 2022 NVIDIA Corporation. All rights reserved. NVIDIA, the NVIDIA logo, and GeForce RTX are trademarks and/or registered trademarks of NVIDIA Corporation in the U.S. and other countries. Other company and product names may be trademarks of the respective companies with which they are associated.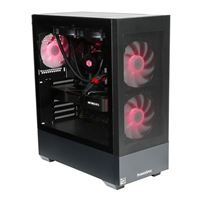 PowerSpec G902 Gaming PC

AMD Ryzen 9 5900X 3.7GHz Processor; NVIDIA GeForce RTX 3080 10GB GDDR6X; 32GB DDR4-3200 RAM; 2TB Solid State Drive
SOLD OUT at Parkville Store