LucidSound LucidSound LS15X Wireless Gaming Headset

Memory Foam Ear Pads, Xbox One/ Mobile, and Xbox Series X/ S, Up to 15 Hours of Gameplay
Overview
Memory Foam Ear Pads, Xbox One/ Mobile, and Xbox Series X/ S, Up to 15 Hours of Gameplay
The advanced chipset in the LS15X enables a strong and clear wireless signal even in crowded WiFi and mesh network areas. One-step setup gets you gaming in no time. Memory foam earpads and a lightweight, flexible frame for superior comfort during long campaigns.. Glasses friendly earcups twist flat to rest comfortably around your neck between matches. Rechargeable battery allows up to 15 hours of gameplay. Optimized to deliver immersive surround sound on Xbox with Windows Sonic. Custom-tuned 50mm speakers provide deep bass and clear highs in Natural, Signature Sound and Bass Boost modes.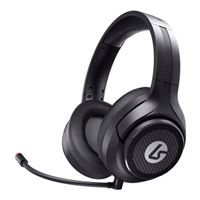 LucidSound LS15X Wireless Gaming Headset

Memory Foam Ear Pads, Xbox One/ Mobile, and Xbox Series X/ S, Up to 15 Hours of Gameplay
Usually ships in 5-7 business days.