JBL JBL Quantum 400 Wired Over-ear Gaming Headset

Memory Foam Ear Cushions, Flip-up Directional Microphone - Black
Overview
Memory Foam Ear Cushions, Flip-up Directional Microphone - Black
JBL Quantum 400 USB over-ear gaming headset with game-chat balance dial. Gain an audio edge. JBL Quantum 400 headset keeps you one step ahead with surround sound that engages you in the game and lets you anticipate every move. Designed for precision and immersion, JBL QuantumSOUND Signature helps you level up your performance for a real advantage in combat. JBL Quantum 400 also features a voice focus boom mic for clear multiplayer interactions, an game-chat balance dial, is certified for DISCORD, and compatible with TeamSpeak and more. A lightweight headband with memory foam ear cushions lets you game in comfort for hours on end. Up your game with JBL Quantum 400 headset and dominate your opponents.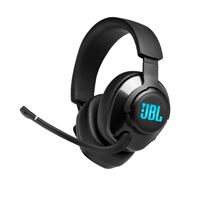 JBL Quantum 400 Wired Over-ear Gaming Headset

Memory Foam Ear Cushions, Flip-up Directional Microphone - Black
Usually ships in 5-7 business days.