Laut

Laut Little Buddy iPad 10.2"/ 10.5" - Pink
Overview
Give your kids a LITTLE BUDDY while keeping your iPad safe and sound. Parents no longer have to worry when you see your little one holding the brand new iPad you just bought. LITTLE BUDDY is made from a non-toxic light weight molded EVA foam, so it is built to last and save your iPad from accidental drops, bumps or impact. A handy handle makes LITTLE BUDDY easy to gasp even with those little hands. With the stand function, it also turns your iPad into an entertainment station. Get your iPad covered with this handy LITTLE BUDDY.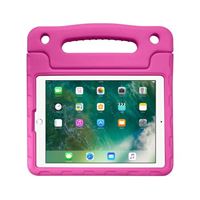 Laut Little Buddy iPad 10.2"/ 10.5" - Pink
Usually ships in 5-7 business days.