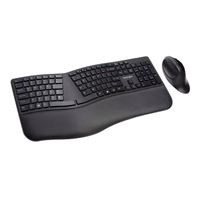 Kensington

Kensington Pro Fit Ergo Wireless Keyboard and Mouse - Black
Overview
With a split and sloped keyboard with adjustable reverse tilt, built-in wrist support, and neutral grip, the ergonomist-approved Pro Fit Ergo Wireless Keyboard and Mouse positions your hands for improved comfort. Features include dual wireless (2.4 GHz and Bluetooth 4.0 LE) with 128-bit AES encryption security; quiet typing and clicking; spill-proof keys; F-keys for shortcuts; caps lock, numbers lock, and scroll lock; low battery indicator lights; a five-button (including forward and back) mouse; three-mode power-saving switches; and a replaceable receiver. In the event the receiver is lost or damaged, simply purchase a new one, pair it with your mouse, and youre all set.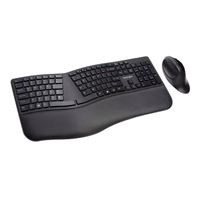 Kensington Pro Fit Ergo Wireless Keyboard and Mouse - Black
Usually ships in 5-7 business days.