Belkin

Belkin DuraTek Plus USB 2.0 (Type-A) Male to USB 2.0 (Type-C) Male Charge/ Sync Cable w/ Strap 4 ft. - Black
Overview
DuraTek's advanced durability technology reinforces your cable inside and out to deliver Belkins strongest cable yet. The stylish design fits in any environment while a leather strap accents the cable's good looks and makes it easy to keep it tangle-free. The highly flexible insulation within DuraTek minimizes friction, allowing the cable to bend easily while protecting the wires within from damage.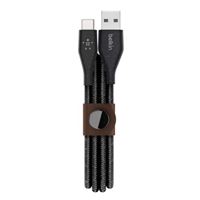 Belkin DuraTek Plus USB 2.0 (Type-A) Male to USB 2.0 (Type-C) Male Charge/ Sync Cable w/ Strap 4 ft. - Black
Usually ships in 5-7 business days.