Elenco

Elenco Adjustable Circuit Board Holder
Overview
Adjustable project clamp rotates 360 degrees and can be secured in position, making your projects and soldering easier. Great for soldering or reworking printed circuit boards (PCBs) and smaller assembly or painting projects. Clamp mouth opens to nearly 8 Inches (198 mm). Rigid steel structure with stabilizing rubber feet.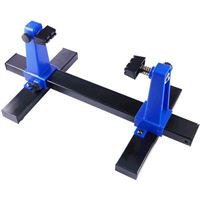 Elenco Adjustable Circuit Board Holder
Usually ships in 5-7 business days.