Philips

Philips Hue Go Portable Light
Overview
Enhance your activities with a wide range of light effects using the versatile Hue Go Portable Light from Philips. This portable lamp features a rechargeable lithium-ion battery that provides continuous light for up to 3 hours at a time. It will also operate off of AC power. The lamp offers seven light effects, from cool energizing daylight to relaxing warm white light, and it also comes with five natural dynamic light effects to match specific moments. Furthermore, when you use a third-party app to sync the Hue Go with your movies or music, the changing color shades will accompany the beat of your music or the scenes of your movies for an immersive experience.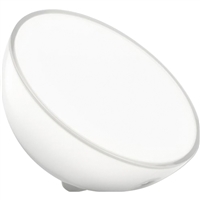 Philips Hue Go Portable Light
Usually ships in 1-3 business days.