Samsung Samsung Galaxy S5e - Silver

10.5" 2560 x 1600 OLED Display; Qualcomm Snapdragon 670 2.0GHz Octa-Core CPU; 4GB RAM & 64GB Storage; Android 9.0 Pie
Overview
10.5" 2560 x 1600 OLED Display
Qualcomm Snapdragon 670 2.0GHz Octa-Core CPU
4GB RAM & 64GB Storage
Android 9.0 Pie
Enjoy movies, TV shows, and even the helping hand of AI with the 10.5" Galaxy Tab S5e 64GB Tablet from Samsung. Built with Bixby and Google Assistant, the Galaxy Tab S5e can assist you in everyday tasks such managing your calendar or turning on your front porch light. Using a compatible app, users can also navigate their smart home setup and much more using the tablet's 10.5" 2560 x 1660 Super AMOLED display.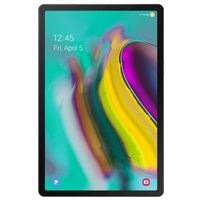 Samsung Galaxy S5e - Silver

10.5" 2560 x 1600 OLED Display; Qualcomm Snapdragon 670 2.0GHz Octa-Core CPU; 4GB RAM & 64GB Storage; Android 9.0 Pie
Usually ships in 5-7 business days.