PowerSpec PowerSpec X601 Gaming Desktop Computer

Intel Core i5-9600k Processor 3.7GHz; NVIDIA GeForce GTX 1070 Ti 8GB GDDR5; Microsoft Windows 10 Pro; 16GB DDR4-3200 RAM
Buy eligible GeForce GTX video cards or systems, get the Fortnite Bundle FREE!

Overview
Intel Core i5-9600k Processor 3.7GHz
NVIDIA GeForce GTX 1070 Ti 8GB GDDR5
Microsoft Windows 10 Pro
16GB DDR4-3200 RAM
500GB Solid State Drive
The PowerSpec X601 Desktop Computer features the Intel Core i5-9600K unlocked processor kept cool to overclock by EKWB liquid cooling. This extreme performance gaming system is based upon the ASUS ROG Strix Z390E Gaming system board powered by an 750W Gold power supply with CableMod's ModFlex sleeving for vivid color and supreme flexibility. It is assembled in a Lian Li PC-O11 Dynamic Tempered Glass ATX chassis including RGB fans. For gameplay domination it includes NVidia GeForce GTX 1070Ti 8GB graphics card and 16GB of G.Skill High Performance Trident Z DDR4 3200 RGB RAM. In addition, the Windows 10 Professional operating system is loaded on a Samsung 970 EVO 500GB NVME M.2 SSD.

If Victory Royale is your mission, the GeForce Fortnite Bundle is just for you. For a limited time, get Game Ready with GeForce GTX 1070 Ti, GTX 1070, GTX 1060, GTX 1050 Ti, or GTX 1050, and get the GeForce Fortnite Bundle. You'll receive 2000 V-Bucks and the Fortnite Counterattack Set. Whether you're a newcomer looking to skydive into Fortnite or a seasoned veteran looking to purchase the Season 7 Battle Pass, 2000 V-Bucks has you covered. Enjoy the ultimate Battle Royale experience with GeForce GTX graphics and be the last one standing. Here's what's in the Fortnite Counterattack Set:
2000 V-Bucks
Fortnite Counterattack Set
"Reflex" Outfit – Rare
Pivot" Glider – Rare
"Angular Axe" Pickaxe – Uncommon
"Response Unit" Back Bling
*Terms and Conditions apply.
This promotion is available for a limited time or while supplies last. Qualifying graphics cards: GeForce GTX 1070 Ti, GTX 1070, GTX 1060, GTX 1050 Ti, or GTX 1050, Game must be redeemed via GEFORCE EXPERIENCE on a desktop with qualifying graphics card installed. Customer must meet the age requirement for the game to redeem. Regional/Country Requirements: Some coupons require that they be redeemed in specific regions or countries they were purchased in. Please redeem the code in the appropriate region/country.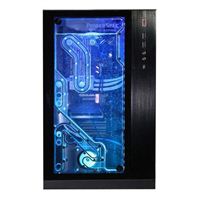 PowerSpec X601 Gaming Desktop Computer

Intel Core i5-9600k Processor 3.7GHz; NVIDIA GeForce GTX 1070 Ti 8GB GDDR5; Microsoft Windows 10 Pro; 16GB DDR4-3200 RAM
4 in stock at Fairfax Store
Located in Desktops►VIEW MAP