Verbatim

Verbatim CD/ DVD Color Slim Cases 100 Pack - Assorted Colors
Overview
The Verbatim color Slim Cases prevent your CDs and DVDs from being scratched or broken during transport. Verbatims Slim Cases come in an assortment of colors " blue, green, orange, purple, and pink " so users can color-code your data, music, movies and more. Thinner and lighter than standard jewel cases. Economical to use, great for travel.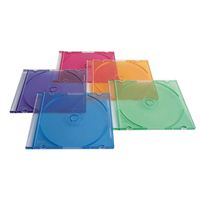 Verbatim CD/ DVD Color Slim Cases 100 Pack - Assorted Colors
Usually ships in 5-7 business days.