Accessory Power

Accessory Power ENHANCE GX-H2 Computer Gaming Headset with Noise Isolating Ear Pads
Overview
The GX-H2 delivers high quality stereo sound providing an impressive audio experience. Whether youre blasting your enemies or engaged in a sword fight , you can rest easy knowing youll be able to hear your surroundings with the highest audio quality creating an unforgettable gaming experience. The stereo design will create multi-directional audio , so you can hear if one of your enemies is attacking from the left or right side.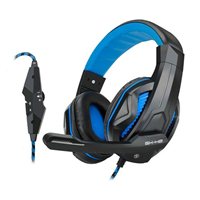 Accessory Power ENHANCE GX-H2 Computer Gaming Headset with Noise Isolating Ear Pads
Usually ships in 1-3 business days.