Schmartboard Inc.

Schmartboard Inc. 10-Piece 9" Female Jumpers and 40 Headers
Overview
Our Mantra at Schmartboard is "Electronics for Everyone". When we say this we mean it. We don't mean as long as you are using through hole components, or if you have hands as steady as a surgeon. We don't mean you can do it unless you are using a chip-scale or BGA device either. We mean that if you have at least reasonable motor skills you can work with any pitch component, chip-scale, or even BGA.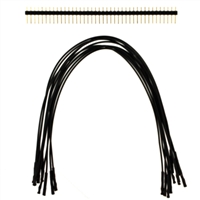 Schmartboard Inc. 10-Piece 9" Female Jumpers and 40 Headers
Usually ships in 5-7 business days.