PJRC.COM

PJRC.COM Teensy LC - Low Cost
Overview
Teensy-LC (Low Cost) is a powerful 32 bit microcontroller board, with a rich set of hardware peripherals, at a very affordable price! Teensy-LC delivers an impressive collection of capabilities to make modern electronic projects simpler. It features an ARM Cortex-M0+ processor at 48 MHz, 62K Flash, 8K RAM, 12 bit analog input & output, hardware Serial, SPI & I2C, USB, and a total of 27 I/O pins.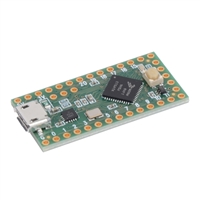 PJRC.COM Teensy LC - Low Cost
Usually ships in 1-3 business days.