BlueLounge Design

BlueLounge Design CableDrop Mini 9 pack - Black
Overview
CableDrop Mini is a tinier version of the ever-popular CableDrop. The CableDrop Mini, like the original CableDrop, is designed to gently clasp cables and keep connectors within reach when devices are unplugged. CableDrop Mini has a self-adhesive backing so users can peel and stick anywhere they need to route their connectors. Once affixed, CableDrop Mini stays stationary allowing users to adjust the length of cable they need or easily hook and unhook cables held within its grasp. CableDrop Mini is available in Black or White. Each package contains nine CableDrop Minis and is recommended for use with small peripheral cables.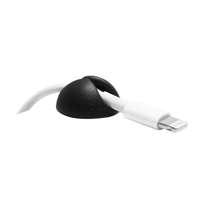 BlueLounge Design CableDrop Mini 9 pack - Black
Usually ships in 5-7 business days.