Koss

Koss Plug In Ear Stereo Wired Earbuds - Black
Overview
The Koss Plug revolutionized the world of in-ear headphones. A first of its kind, these are stereo, noise isolating in-ear headphones that deliver the kind of accurate acoustical reproduction and isolation typically found in high-end, closed-style high fidelity headphones. A dynamic element positioned just outside the ear connects to a tubular port structure that inserts into a soft, expandable cushion. The soft, foam cushion expands for a custom comfort fit with every listening experience.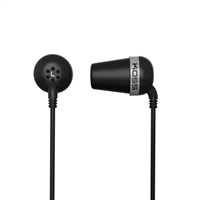 Koss Plug In Ear Stereo Wired Earbuds - Black
Usually ships in 5-7 business days.