Adesso

Adesso AKB132UY Wired Desktop Keyboard
Overview
The Adesso AKB-132UY Luminous 4X Large Print Desktop Keyboard is designed for whose eyesight isn't quite what it used to be, or for anyone with a slight visual impairment. With its large 4X black print on bright yellow keys, you can doing anything from a simple Email to finishing your next novel with greater ease and less strain on your eyes. The membrane key switches provide a quiet and quick response and stand up to heavy use- up to 5 million keystrokes! Not only is the Adesso AKB-132UY keyboard great for anyone with slight visual impairments, but its large bright florescent keys make it a great, and even fun for kids to use too!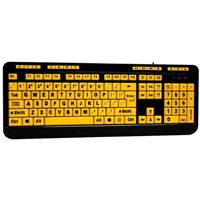 Adesso AKB132UY Wired Desktop Keyboard
Usually ships in 5-7 business days.