Verbatim

Verbatim TrimPak Multi-Color CD Jewel Case
Overview
When it comes to storing and transporting compact discs, the choice is clear - TRIMpak from Verbatim is the answer. Thinner, lighter and more durable than plastic jewel boxes, Verbatim's TRIMpak is far superior to traditional CD storage cases. TRIMpak weighs about half as much as a jewelbox and requires 60% less space. Better yet, TRIMpak's innovative design holds discs safely and securely. Simply place a disc inside and lock it into place with an easy snap. The translucent cases make it easy to quickly identify each disc's label. TRIMpak is economical to use, great for travel and meets all U.S. Postal requirements for single and bulk shipments. So insist on the TRIMpak from Verbatim. The clear choice for CDs.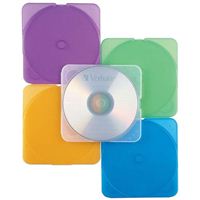 Verbatim TrimPak Multi-Color CD Jewel Case
Usually ships in 5-7 business days.