How to activate ESET NOD32 5 with another boxed copy
The information in this article refers to a previous version of ESET. It is recommended that you run the most current version of ESET. Please see our tech article How to update your ESET Program to the Latest Version for assistance with updating your program. The information in the article below is provided as a convenience to those who may still have questions about the older version of the program.
Description: Steps to activate ESET NOD32 version 5 using the setup > product activation screen.
Go to the website http://www.eset.com/microcenter and fill out all of the information to receive your NEW username and password.
If the website says that your activation key has been activated too many times, check your email to find your username and password (check for an email from ESET).
Open the ESET program by clicking on the ESET icon next to the time on your taskbar.
The Icon may be green or , yellow , orange , or red .
You may have to click on the arrow that points up to expand your icons to find the ESET icon.
Once in the ESET program, click on the setup tab.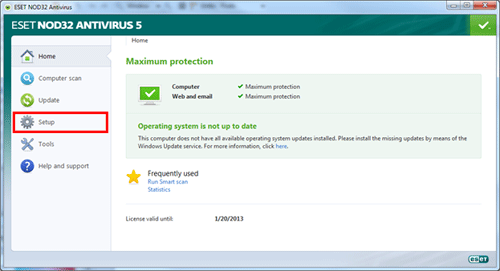 In setup, click on the Product Activation link.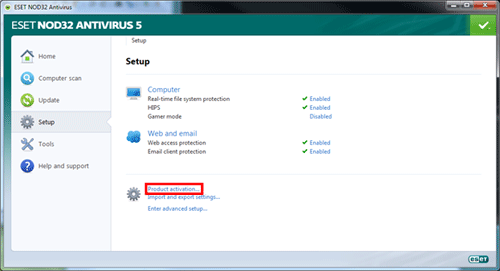 Make sure the radio button is selected on Activate using a Username and Password then click Next.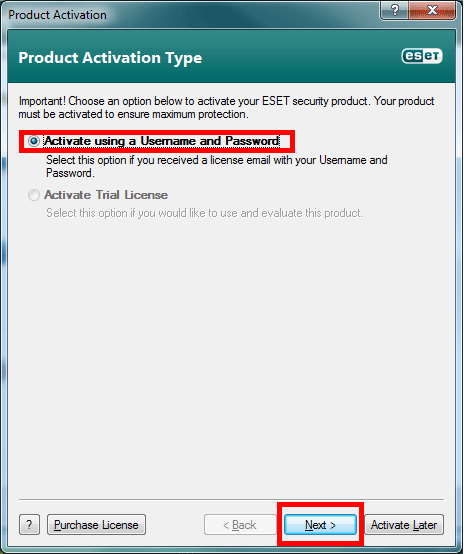 You need to DELETE the username and password from the boxes and type the new username and password that you received in your email.
After typing in your NEW username and password click the activate button.
If the protection status is still red

, head to the update tab.
Click on the link Update Virus Signature Database, this will send a request to the activation server to activate ESET. The protection status icon will change to green .