Free Clinics at your Local Micro Center Store
Come participate in the free, in-store clinics hosted by our own tech support staff. Each clinic covers a new topic from the latest technology to troubleshooting your gadgets. You'll also have the chance to get your computer questions answered by the experts.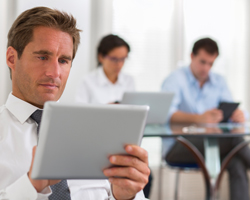 Windows® 10 Basics
Saturday, May 19 and Sunday, May 20
2:00 p.m.
Choosing components by specification
Differences between versions
Upgrade path
New features
Windows Start screen, Store, OneDrive
Switch between Start screen and desktop
Find files and installed programs
Personalize the desktop
Use gestures and keyboard shortcuts
Configure network access
Word & Excel What's New
Saturday, May 26 and Sunday, May 27
2:00 p.m.
Differences between versions
Upgrade path
New features
These FREE clinics will be held at all Micro Center stores. Registration is recommended (or sometimes required) since space is limited. Sign up sheets are available only in your local Micro Center at Tech Support or the Customer Service area.

PLEASE NOTE: Clinics will be suspended in the Denver store while it undergoes remodeling.

Clinics may be canceled without notice due to holiday sale events. Call your nearest Micro Center store to confirm your clinic.
Saturday, June 2 & Sunday, June 3
Saturday, June 9 & Sunday, June 10
2 p.m. — Backup & Restore
Saturday, June 16 & Sunday, June 17
Saturday, June 23 & Sunday, June 24
2 p.m. — Windows® 10 Basics
Sign up to get our In-store Clinic Update Newsletter Enter your email address in the "Sign up for Special Offers" box below. Clinic emails are weekly, listing current and upcoming clinic topics and times.