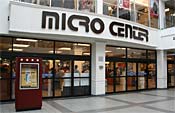 Vendors love working with us. We offer:

• Guaranteed buyer appointments
• No cold call doubts. Immediate response
• No waiting, hoping for an appointment
Thank you for your interest in selling your products and services with Micro Center. New vendors and products are essential to our growth. We invite you to participate in Micro Center's exceptional growth opportunities and be a part of our success!
Micro Center is one of the largest computer and consumer electronics retailers in the United States. Despite the down economy, we have experienced extraordinary growth over the past several years. We have achieved:
- Double-digit same-store sales growth every year
- Strong monthly growth in new customers in all markets
- Laptop sales trending 20 percent higher than the industry average
- Desktops sales bucking the U.S. industry by rising over 10 percent
- Opening five new regional stores since 2007, for a total of 23 stores across the U.S.
- New stores with more floor space and specialized customer service areas
- A new and exciting store format for legacy stores with many new merchandising opportunities
To set up a meeting, please email us at
newvendor@microcenter.com
with your product details and your contact information including:
• Your company name and website address
• Contact name, phone number, and email
• Business model and offerings summary
• Yearly sales revenue

You may also speak directly with a Micro Center representative who will take down your product information and schedule a meeting with your product buyer. We can be reached at U.S. only: 1-614-850-3550 or International: 002-1-614-850-3550. Call during business hours.
Again, we thank you for your interest in partnering with Micro Center. We're looking forward to your first appointment.
© 2013
Micro Electronics, Inc.