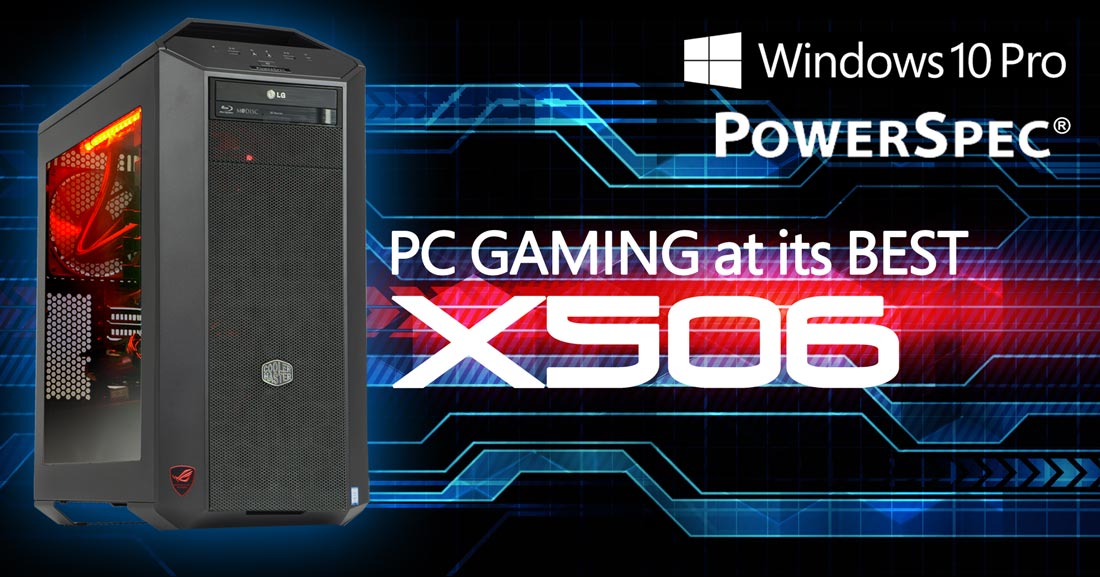 PowerSpec X506 Gameplay Domination System
Impressive Components and Performance.
The PowerSpec X506 Desktop Computer features the best Windows ever for gaming - Windows® 10 Pro. The X506 is powered by the Intel© Core™ i7 6700K Unlocked processor kept cool to overclock by the Corsair Hydro GTX H100i liquid cooler. This high performance gaming system is based upon the ASUS Maximus VIII Hero Z170 systemboard powered by the 1000W Gold power supply in a Cooler Master MasterCase 5 Pro chassis.
• Windows
®

10 Pro 64-bit
• Intel

®

i7-6700K unlocked processor with Corsair GTX H100i cooler
• Intel

®

750 400GB SSD boot drive
• 16GB G.Skill 3000 DDR4 memory
• ASUS Maximus VIII Hero Z170 ROG systemboard
• ASUS Strix Nvidia GTX 980Ti 6GB graphics card
• ASUS PCE-AC56 802.11AC wireless networking

940833