A whole new way to watch TV, explore the web, engage with friends on social networks and play online games, all from the comfort of your couch. Welcome to the LG Google TV experience.
LG Smart TVs / Google TVs at Micro Center:
EASY TO USE
Sit back, and let the Magic Remote QWERTY do all the work. Point, click and scroll…a breeze!
SUPERIOR PERFORMANCE
LG Google TV features the L9 Dual Core Processor. It's the speed you need to do it all!
YOUR FAVORITE CONTENT
YouTube, Facebook, Netflix, Google Play and more...wait til you experience them on the big screen.
SHOP LG SMART TVs »
SHOP LG GOOGLE TVs »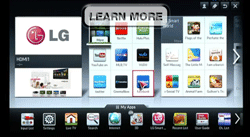 DISCOVER LG SMART TVs
LG Smart TVs are your big-screen gateway to virtually limitless entertainment and information.
DISCOVER THE FUTURE of GOOGLE TV
Merge the power of Google and the boundless content of the Internet with one of the most innovative TVs ever...the LG Google TV.