Acer Aspire Timeline 4810T-8480

I had an opportunity to take a look at one of the new Acer Aspire Timeline 4810T-8480 notebooks. (You can check out the features on Acer's Timeline web site.) Currently there are three families of Timeline notebooks with a variety of model-specific features in each family. All are larger than the current generation of netbooks, but manage to keep some weight off and all have a feature of providing up to 8 hours of use off of a single charge.

The 4810 seems to be targeted at middle-of the road functionality; it is loaded with 4GB of RAM and a decent 320GB hard drive, 14" widescreen display (with HD 720p capability), and has a built-in DVD RW drive. While on the power adapter, the Windows Vista Experience Index comes up at a rating of 3.2, held back by the Intel video. (Since many notebook computers cut the CPU speed in half, disable one of the cores or do other things to extend your battery life, Vista will not generate an index while on battery power.)
Windows® Vista Experience Index
I also ran a benchmark using 3DMark03 and the 4810T received a rating of 994 3DMarks. There was no difference running the benchmark under external or battery power.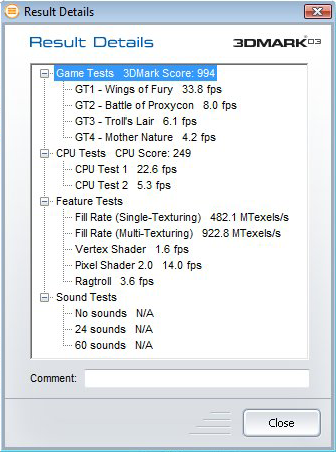 3DMark03 results
While the 4810 seems to be middle-of-the-road in features, there is a smaller and lighter-weight 3810, and a larger screen 5810 version of the Aspire Timeline available. Some of the differences in the three families are apparent in the display size and weight, with all being slightly less than 1" thick at the thickest point. The 3810 does not include an internal optical drive, shaving off a few ounces there, and the 13.3" (16:9 widescreen format) LCD display helps keep its weight down to a very comfortable 3.5 pounds. The 4810 series added a DVD-RW drive and increased the display to a 14.0" diagonal widescreen for a system weight of 4.2 pounds. The 5810 has a 15.6" diagonal LCD display and weighs in at 5.3 pounds.
One cool feature is the bright, LED backlit, TFT display. Using LEDs to illuminate the screen (instead of the older cold cathode tubes) is another way that Acer manages to increase the unit's battery time. Like other Intel® Centrino® 2 technology, the Acer 4810 combines integrated Intel CPU, chipset and wireless networking into an efficient power-sipping unit. The Acer Timeline series is no exception, using an ultra-low voltage Core™ Duo or Core™ Solo CPU, an Intel chipset, and 802.11 a, b, g and Draft-N wireless network support.
Acer has built-in a larger Synaptics touchpad with "gesture" support. If you are not familiar with gestures yet, they're the feature that allows you to use more than one finger on the touch-sensitive surface to move around, zoom in and out, and do other gesture-based motions inside of your applications. Windows 7 supports this feature directly, but several manufacturers are getting a jump on it by creating touch screen interfaces or enhanced touchpad support. Some of the gestures are very intuitive, like the motion to zoom in and out. Bringing two fingers on the touchpad closer together will zoom out, spreading them apart (like you were stretching an area of the screen) will zoom in or expand the object. You can do that with your wheel mouse by holding the control key down and rolling the wheel, but that takes two hands, while this gesture motion only takes two fingers.
Many systems are pre-loaded with applications and utilities. Some of the background utilities and pre-installed applications on the Acer Timeline series might be useful, so take some time to see what they can do before rushing to clean them off. In any case, the very first thing you should do is make a set of system recovery disks (3 DVDs) and the Application Driver disk (1 DVD). Once you have the means to put the system back to the factory configuration, feel free to experiment or uninstall programs you won't use.
The Acer 4810 I looked at came with the maximum 4 GB of RAM pre-installed in the system. With Windows Vista Home Premium running the default startup stuff, there is just over 1 GB of memory already in use. There does not appear to be too much running that doesn't also appear in the system tray. I have icons for McAfee Security Center, MyWinlocker, Synaptics pointing device (touchpad), Acer Video Conference Manager, Intel Media Accelerator (video control), and the Acer Backup Manager.
One of the first things I do with my own systems is to dump all of the trial applications and replace them with full products or install more efficient applications. The trial version McAfee Security suite is okay, but I much prefer ESET NOD32 on both my home systems and primary notebook. On systems that I only pull out once a year or so, I prefer to install something that does not require annual renewal fees but still gives me basic protection. As long as I am careful with what other media they get exposed to and keep them isolated or on security-enabled networks, I'm not too concerned about their exposure to malware threats.
There is a 60-day trial of Microsoft Office 2007 taking up a chunk of the 23GB used on the 300GB hard drive. It also includes Microsoft Works SE, which has word processing, spreadsheet, and database applications. If the word processing portion is not the same as Microsoft Word 2002/3, then it's very close in capability. So, unless you need all of the heavy-duty features of Office, you probably can get away with using Works for most of your stuff. Be aware that Microsoft Works SE (version 9) is sponsored by advertising; that's not a big deal, but it can be distracting.
Works SE word processing and advertisement
The specifications show that this unit has a 320GB hard drive, however when you look at the drive properties, only about 300GB seems to be available. So where's the rest of it? If you pop into the management console of the system and look at the Disk Management tool, it shows that 11.72GB is in a (hidden) EISA Configuration and the remaining 286.37 is in the NTFS partition that appears as your C: drive. The hidden partition should contain the system recovery image files that were used to create the recovery media or do a system restore from the startup screen. In any case, you should be used to the numbers not quite adding up since this math is the typical fudging that is used to market large drives these days. That 320GB drive just means that you should have the ability to store 320,000,000,000 bytes of data if it were all one partition, including format, directory structure, and other file management overhead.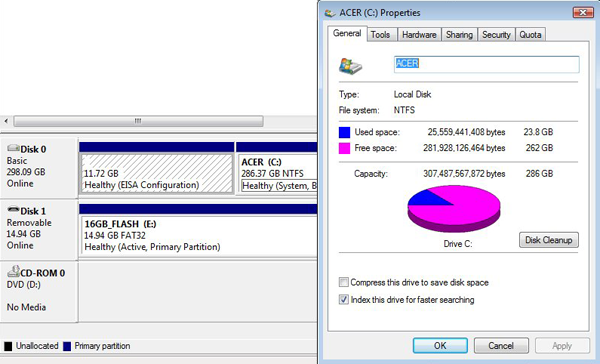 Drive Manager and Disk Properties show how the hard drive is organized
Something else worth mentioning is being eligible for the upgrade to Windows 7 when it becomes available later this year (register for your Acer upgrade at www.acer.com/win7upgrade, or check out /windows7/ for a list of similar manufacturer upgrade links). Keep in mind that some Windows 7 upgrades may involve a format and install in some cases - don't forget to back up!
Acer Aspire Timeline 4810T-8480 Specifications

Operating System

Genuine Windows Vista® Home Premium

Processor

Intel® Core™2 Solo Processor SU3500 (3MB L2 cache, 1.40GHz, 800MHz FSB)

Chipset

Mobile Intel® GS45 Express

Memory

4GB (2GB installed in each of two memory slots) DDR3 1066 SDRAM (maximum supported)

Storage

320GB* hard drive, 5400RPM
Integrated variable-speed Super-Multi drive:
-Read – 24X CD-ROM, 24X CD-R, 24X CD-RW, 8X DVD-ROM, 8X DVD-R, 8X DVD+R, 6X DVD-ROM DL (double-layer), 6X DVD-R DL (double-layer), 6X DVD+R DL (double-layer), 6X DVD-RW, 6X DVD+RW, 5X DVD-RAM
-Write – 24X CD-R, 16X CD-RW, 8X DVD-R, 8X DVD+R, 4X DVD-R DL (double-layer), 4X DVD+R DL (double-layer), 6X DVD-RW, 8X DVD+RW, 5X DVD-RAM
5-in-1 card reader for optional MultiMediaCard™, Secure Digital card, Memory Stick®, Memory Stick PRO™ or xD-Picture Card™

*When referring to storage capacity, GB stands for one billion bytes and MB stands for one million bytes. Some utilities may indicate varying storage capacities. Total user-accessible capacity may vary depending on operating environments.

Video

Acer® CineCrystal 14.0" WXGA (1366 x 768) high-brightness (200-nit) TFT display with 16:9 aspect ratio and LED backlight
Up to 16.7 million colors
Integrated Intel® Graphics Media Accelerator 4500MHD (64MB dedicated memory, up 1695MB shared system memory)
Microsoft® DirectX® 10.0 support
MPEG-2 DVD, WMV9/VC-1 (Windows® Media Video 9, VC-1 standard), H.264/AVC decoding
VGA and HDMI™ (High-Definition Multimedia Interface™) with HDCP (high-bandwidth digital-content protection) support ports
Support for simultaneous display on notebook LCD and external monitor

Audio

Integrated microphone
Microsoft® DirectSound® compatibility
Optimized second-generation Dolby® Sound Room audio enhancement
Headphones/speaker/line-out with SPDIF support and microphone ports

Interface Ports

DC-in
RJ-45 LAN
VGA
Headphones/speaker/line-out with SPDIF support
Microphone
HDMI™ (High-Definition Multimedia Interface™) with HDCP (high-bandwidth digital-content protection)
Three USB 2.0

Card Slot

5-in-1 card reader for optional MultiMediaCard™, Secure Digital card, Memory Stick®, Memory Stick PRO™ or xD-Picture Card™

Communications

Intel® Wireless WiFi Link network connection supporting 802.11a/b/g/Draft-N or 802.11b/g/Draft-N wireless LAN, Acer® SignalUp technology for enhanced antenna efficiency, WI-FI CERTIFIED™
Gigabit LAN, Wake-on-LAN ready
Acer® Video Conference with integrated Acer® Crystal Eye webcam supporting Acer® PrimaLite technology, which consists of a premium sensor, firmware and lenses to provide superior video performance under low-light conditions

Included Software

Acer® Backup Manager
Acer® Crystal Eye
Acer® eRecovery Management
Acer® Game Console
Acer® Game Zone
Acer® GridVista
Acer® PowerSmart Manager
Adobe® Acrobat® Reader
Adobe® Flash® Player
CyberLink® PowerDVD™
Google™ Desktop
Google™ Toolbar
McAfee® Internet Security Suite (trial version)
NTI Media Maker™ (OEM, not full-featured, version.)

User Interface

86-key keyboard, inverted T cursor layout, standard numeric keypad, hotkey controls, international language support
10 function, four cursor, two Microsoft® Windows®, one Acer® PowerSmart keys
Acer® Communication, Acer® Backup, touchpad lock easy-launch buttons
Play/pause, stop, previous, next media control keys printed on keyboard
Multi-gesture touchpad supporting circular-motion scrolling, pinch-action zoom, page flip

Dimensions & Weight

13.32" (338.4mm) W x 9.44" (240.0mm) D x 0.94" – 1.13" (24.0mm – 28.9mm) H
4.2 lb. (1.9kg)
Size and weight may vary depending on configuration

Power

65-watt AC adapter
Six-cell lithium ion battery: At least eight hours of battery life based on Principled Technologies' benchmark testing, using Bapco's MobileMark 2007 Productivity test. Battery life varies depending on product specifications, computer settings, and applications or features launched, and may be reduced if Windows Aero™ is enabled. The Acer PowerSmart button must be enabled to achieve the 8+ hours. All batteries' maximum capacity diminishes with time and use.

Compliance

Energy Star® Wi-Fi CERTIFIED™

Security Features

User, administrator and hard drive BIOS passwords
Kensington® lock slot

Limited Warranty*

One- or two-year parts and labor limited warranty* with concurrent International Traveler's Warranty**

*For a free copy of the standard limited warranty end-users should see a reseller where Acer products are sold or write to Acer America Corporation, Warranty Department, P.O. Box 6137, Temple, TX 76503. TFT displays commonly exhibit a small number of discolored dots, so-called "nonconforming pixels." This phenomenon is a limitation of TFT LCD technology, not a product defect and, as such, is not covered by the limited warranty or by the upgrade programs.
**Valid only in countries where Acer has an authorized repair facility. For a list of those countries go to http://global.acer.com/support/itw.htm. or call 800-816-2237. Services and response times may vary in countries outside the U.S. and Canada.

Specifications are subject to change without notice.
Reference:
Acer Timeline

• Get Random Access

• Understanding Tech

• Print this article

• Shop Online