Whether you want a stable platform for a camcorder or the ability to shoot in low light with a camera, tripods are an essential piece of equipment. Tripods come in all shapes, sizes and price ranges depending on their use. Your first tripod is likely to be a basic one, just enough to steady your shot. But once you learn the basics, and figure out what you want from a tripod, there are several features that you'll want to consider when buying your next tripod. Hopefully this article will save you time and money before you buy.
Understanding Tripods
There are five main specifications to a tripod: collapsed size, extended height, weight, maximum load capacity, head, and material.
Height & Weight
For full-sized tripods, you want to make sure the extended size will be tall enough for you to comfortably look through the viewfinder or watch the LCD screen. Collapsed size tells you if the tripod will fit into your bag. Weight is an issue with full-sized tripods. Lighter ones are more expensive, but worth it if you're lugging your tripod around with you all day.
Maximum Load Capacity
This specification notes the heaviest camera the tripod can support. If you try to use a camera that is heavier than the maximun load capacity, you run the risk of the tripod collapsing or breaking. Or, at the very least, the tripod head may move slightly even when locked down.
Heads
The head is the part of a tripod with the connection screw that connects the camera or camcorder to the rest of the tripod. Most tripods come with a quick release plate that screws onto the bottom of your device and can quickly attach and detatch from the head.
When it comes to movement and positioning, heads come in two varieties:
Pan-tilt heads
A pan-tilt head has separate controls for panning left to right and tilting up, down and side to side. Pan-tilt heads are useful when you want to move the device around one axis, such as panning a camcorder to catch some action.
Ball heads
Ball heads use a ball joint connection to allow freedom of movement on all three axes, using only one locking lever to lock the ball into position. These heads are quicker to adjust since there is only one knob to change.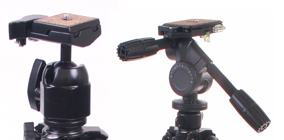 A ball head and a 3-way pan-tilt head
Material
Tripods can be made of plastic (least expensive and least durable), aluminum (most common material in tripods, fairly light and durable), or carbon fiber (very light and durable, very expensive).
Other Tripod Features
Level
Spirit levels are built-in to many tripods so that you can make sure you have a level shooting platform. This is especially important if you're doing a lot of panning.
Carrying Case
A case is essential for any full-sized tripod, making it more likely that you'll want to carry it. If you have to lug a tripod around all day without a case, you'll be less inclined to carry it and use it.
Other 'pods
In addition to standard tripods, there are several variants that can go where their full-sized cousin cannot:
Tabletop Tripods
These small tripods are handy when a normal tripod is too bulky to fit into a space or too heavy to carry. They are also small enough to always have on hand for those impromptu group shots that you want to join. Just set up the little tripod, set your timer, and pose with your friends.



Gorillapod
A company named Joby makes an interesting variation of the tripod called the Gorillapod. The Gorillapod has three short, prehensile, rubber-ringed legs allowing it to attach to various stationary objects. With one of these gadgets you can turn a tree, a street sign, or a table leg into a stable shooting platform.




Monopods
Some places don't allow tripods, as they may become tripping hazards in confined spaces. These same places may allow monopods (the one-legged cousin of the tripod). Monopods are lighter and quicker to set up. They support the weight of the camera or camcorder, and although they have most of the same benefits of a tripod though, they lack a tripod's lateral stability.



Shop:
Tripods
Monopods
Gorillapods

• Get Random Access

• Understanding Tech

• Print this article

• Shop Online