The Internet can be a wonderful place, full of information, entertainment, social and family contacts. But there is also a darker, more insidious side of the Internet where viruses, spam, and identity theft lurk. Many evil websites can look professional and seem reliable. How can you know if a website is safe? Riding to the rescue is a free browser plug-in for IE and Firefox called WOT. WOT (which stands for Web Of Trust) determines the safety of a site by using ratings from its community of users and trusted lists of fraudulent sites.
Installation
The installation of the WOT plug-in is easy and only takes a minute. Upon installation, you are prompted to register. Becoming a member of the "web of trust" enables you submit site ratings and synchronize settings across multiple computers and browsers.
How It Works
WOT rates each site from very poor to excellent on four attributes, using the familiar red-yellow-green color code:
Trustworthiness – indicates whether the site is filled with adware, excessive pop-ups, or general unreliability
Vendor Reliability – indicates whether the site is safe for buying and selling and other business transactions
Privacy – indicates the trust in supplying personal information like name, email address, etc.
Child Safety – indicates the presence of sexual, violent, or hateful content.

Micro Center's rating
WOT integrates into your browser to display safety notifications in various places. For example, when you search, WOT displays a little colored doughnut next to each search result. Green for safe sites, yellow for suspiscious sites and red warns of potential danger.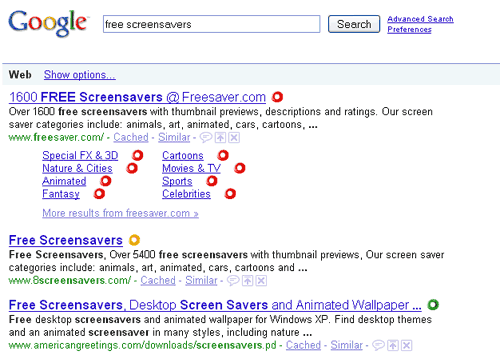 Good and bad links
If there is not enough data on a particular site, a gray doughnut will appear with a little question mark.


A site of unknown trustworthiness
The other way WOT protects you is when you visit a site that has a poor rating, a big, red warning will fill your screen. You then have the option to view the rating, rate the site, ignore the warning or simply close the window.

Enter at your own peril
Settings
There are three levels of protection:
Basic – the default level
Light – for advanced users that want alerts for only dangerous sites
Parental Control – adult content or any other child-unfriendly site will be blocked
Community
If you register, you become a member of the "web of trust" with the ability to rate sites.
Caveats
If you give a site an unsatisfactory (yellow) rating or lower, WOT will block your access to the site. For example, I rated Wikipedia as unsatisfactory in the Child Safety category for some of the more mature content on the site. After doing this, I was greeted by a blocked message and I was unable to access Wikipedia. To regain access, I had to give the site a good Child Safety rating.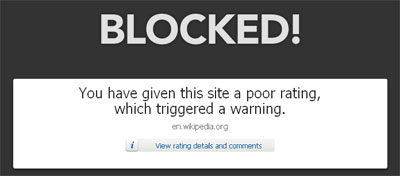 Unintended consequences
While it's never a good idea to download from an unknown source or click on a link on an unsolicited email, WOT will at least warn you before you unwittingly fall into a trap. WOT is like your own personal bodyguard, keeping you safe from harm.
Home Page : Web Of Trust
Compatibility: IE 6.0 or newer for Windows or Firefox 1.5 or newer for Windows, Mac OS X or Linux
Cost: Free