Back in 2007, I introduced some new features of Adobe Acrobat Professional such as building paperless forms for online content. In order to make PDFs interactive for online use, Adobe has another suite of products that provides advanced features to develop forms for websites called LiveCycle Enterprise Suite. This software consists of several components to build, host, and manage interactive forms on your server. This software is based on Adobe PDF and Flash technology that makes this interactivity possible. In this article, I'm going to focus briefly on one particular part of the LiveCycle suite, LiveCycle Designer, and Acrobat Professional on how to create input fields for data.
Most forms begin as paper designed either in a word processing program or scanned from paper. The first part of converting a form is to have it in PDF format. This can be accomplished by either taking the form into Word (available in Word 2007 only) and using the 'Create PDF' feature under the Acrobat tab. For scans, forms can be saved as PDFs through the 'Save As' command in Photoshop or 'Create PDF' in Acrobat.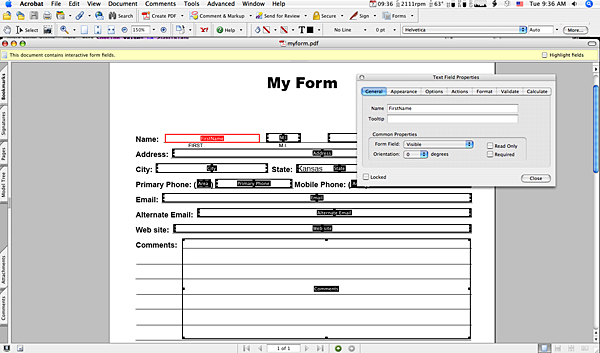 Next, open the form in Acrobat if you are not using Acrobat already. For this first step you will need either Acrobat Standard, Pro or Extended. The new Acrobat 9 has a feature to automatically detect form fields. Specify the field properties by attaching descriptions to the data. Finally, add a submit button to process the data. Draw the button on the form, then go to the Actions menu to designate a trigger such as emailing the PDF document. There is an additional step to make the form interactive: go to Advanced -> Extend Features. This allows the PDF to be edited with Acrobat Reader by enabling Usage Rights. The form is now ready to deploy. With Adobe 8 or above, you can use the Distribute Form function to send through email.
Another option for creating a form is using Adobe LiveCycle Designer. The main difference between Acrobat and LiveCycle Designer is that Designer is XML-based. Both Acrobat and Designer can edit PDF and XML documents, but each program has limitations on their capabilities. If you are unfamiliar with XML, Designer can easily develop forms with its WYSIWYG interface. It works similarly to InDesign by dragging and dropping objects onto the workspace for placement. LiveCycle Designer also works with Word and Excel and can import an existing form and convert it to XML. To deploy forms, other LiveCycle ES components need to be installed on your server. For example, LiveCycle Forms can deploy XML forms in Reader, Flash Player or web browsers for data capture. For more information on LiveCycle ES, go to Adobe.com.
If you are interested in more extensive tutorial on designing interactive forms using PDF, read PDF Forms Using Acrobat 9 & LiveCycle Designer Bible. It provides step-by-step instructions on how to convert paper or Word documents.
Shop:
Adobe Acrobat 9 Pro
PDF Forms Using Acrobat 9 & LiveCycle Designer Bible
Reference:
Random Access - Tech Take Apart - Highlights of Adobe Acrobat Professional
Adobe LiveCycle
Padova, Ted. Okamoto, Angie. PDF Forms Using Acrobat and LiveCycle Designer. ISBN: 9780470400173